EMOTIONanigans
Therapy Activities for Kids
Dinosaur Emotions
On Sale
$5.00
Dinosaur Emotions
---
Emotional Awareness & Expression
Ages 4-10
This story-based activity focuses on the goals of emotional awareness, emotional expression, and normalizing all emotions as kids follow Parks the Parasaurolophus as Parks learns the messages of happiness, sadness, fear, worry, anger, and love.
With Parks's facial expressions, volcano smoke that changes based on the intensity of the emotion, and a coloring sheet, this activity sparks discussion and makes learning about and sharing emotions fun for your dino loving clients!
What's Included:
A
Digital Slideshow
designed specifically for teletherapy sessions.
Two
Printable Booklets
for in-person sessions with a choice of landscape or vertical orientations. 
A
Printable Client Workbook
so you can expand the activity with a space for clients to write or draw about a time they've experienced the named emotion. 
Plus, the Dinosaur Emotion Art Activity.
Clients create a color key for each emotion and color in the dinosaur to show how much of each emotion they've been feeling. In two formats, horizontal and vertical.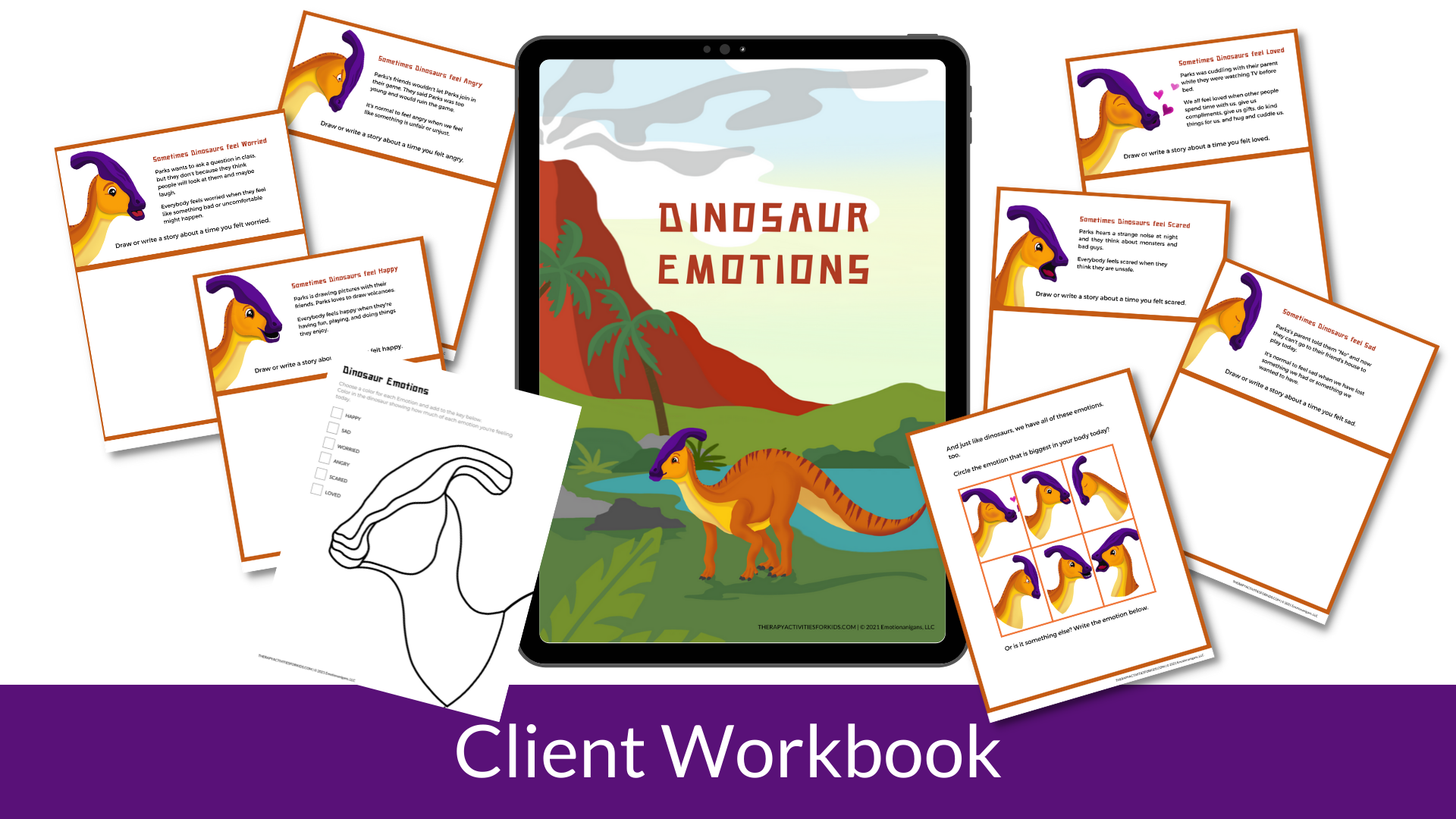 Please Note
You are purchasing a digital download licensed for one therapist only. If more than one therapist wants to use this activity, the purchase of mulitple licenses is required.
By purchasing this activity, while I am a licensed clinician, I am not your counselor or your clinical supervisor. The content does not constitute medical advice, and does not establish a therapist-client relationship.
This resource is intended as a supplement and is not a replacement for professional therapy, appropriate training, or supervision. Professionals should not practice outside of their scope of competency, and they should defer to their own professional judgement.
Refunds are not available for digital download sales; all sales are final.
Craft Brilliant Kid Therapy Sessions
Twice a month, Kim Lange shares ideas, hand-selected activities, and trusted resources for creating engaging and effective therapy sessions.
​
Enter your email address to subscribe to the Sunday Letter.
No fee. No spam.